Welcome back to Somerset Stories. The monthly series talking to our treasured Instagram hub and getting to know each other beyond the squares.
This month we're talking to Cornish artist Rachel Painter.  We've mostly chatted to photographers from our hub on Instagram in this series, and something about Rachel's art caught our eye! Born in Bath Rachel now lives in Cornwall and paints gorgeous landscapes and seascapes.  Still inspired by Somerset we're thrilled she agreed to chat with us today to tell us more about her art and how Somerset plays a big part in her creativity.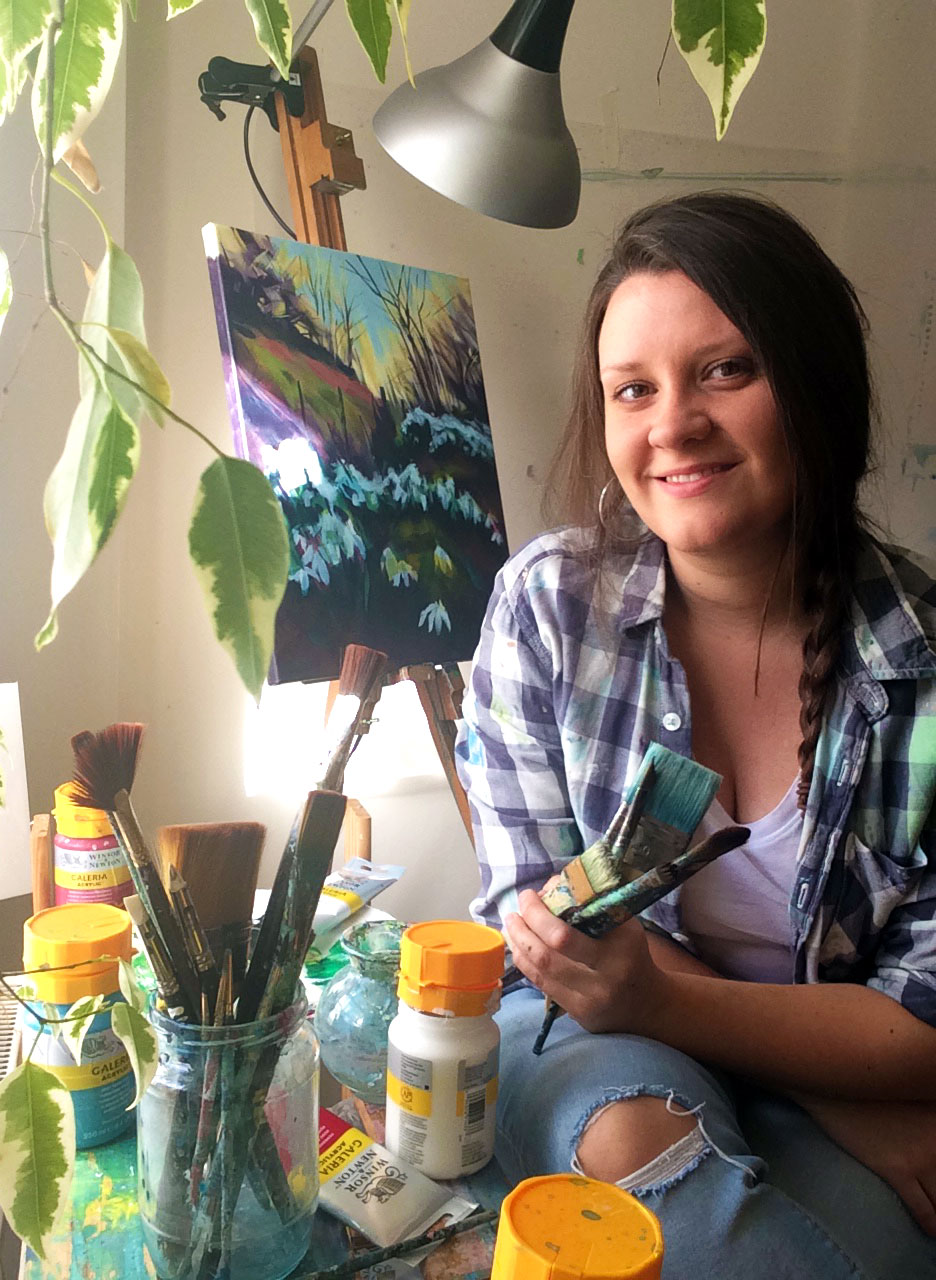 Rachel it's wonderful to meet you and find out more about you and your wonderful art.  It's clear the Somerset landscape has affected your inner soul and we love that at Love for Somerset HQ.  Let's dive straight in…
Rachel tell us where you grew up, what's your background and how did you get to where you are today?
Hi thanks for having me, I'm Rachel Painter. You might think with a name like "Painter' and always having some ability in art it would be a little obvious the route I might take. But the journey to jumping into what I dreamed of doing wasn't straight forward.
I arrived in the South West in 2008, from Northamptonshire, (though I was originally born in Bath and lived nearby for the first 3 years of my life). I trained initially in Graphic Design at Falmouth University in Cornwall. It would appear I've always felt a pull to the South West! Although I enjoyed design I quickly realised that it wasn't the career choice for me and instead used my passion for creativity to work within communities, realising its influence as a force for good. I set up various community projects, murals and weekly creative workshops for 6 years. I felt the call to return to my own painting in 2018.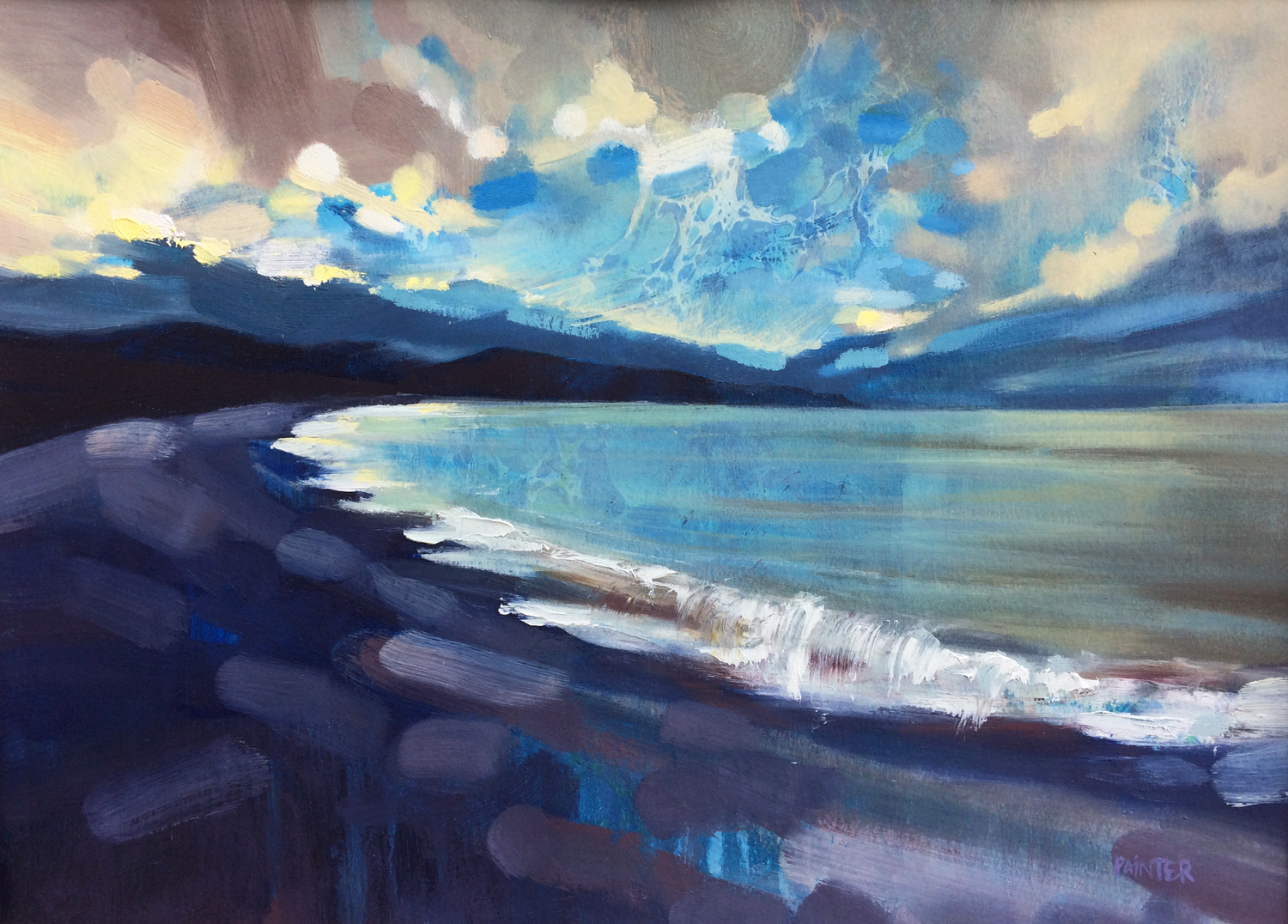 How did you go from organising community projects and creative workshops to exploding your painting passion?
The truth is painting really began inside an empty costa coffee mug three years ago in time of huge transition for me. I'd been sharing how unsettled and uncertain I felt about where things were going when the person who was patiently listening to me gently responded: "Being an artist is still a dream for you….isn't it?'
I didn't know where to look but keep my eyes glued to the inside my empty costa coffee mug. The question darted around inside me like one of those frenzied butterflies pounding against a windowpane eager to escape into the world beyond. I think it was the "…isn't it?", it demanded an answer. Everything inside of me was resounding with a YES that not even I could ignore. I really was an artist, it had just got lost somewhere down line, and it was time to start putting feet to the dream.
Because being an artist was still a dream… a dream waiting to come out of hiding into wide-open spaces. And it's that little thought that became the story within my landscape paintings. You can read the full story on my blog.
I became fascinated tracing the path of the river – from the wild high places of the moorlands; meandering through woodlands, and flowing into the tidal plains of the ocean. But it's the river carving its course through the unknown, watching as the seasons and weather change that began to inspire me most as I wandered through the secret places of Cornwall & Exmoor.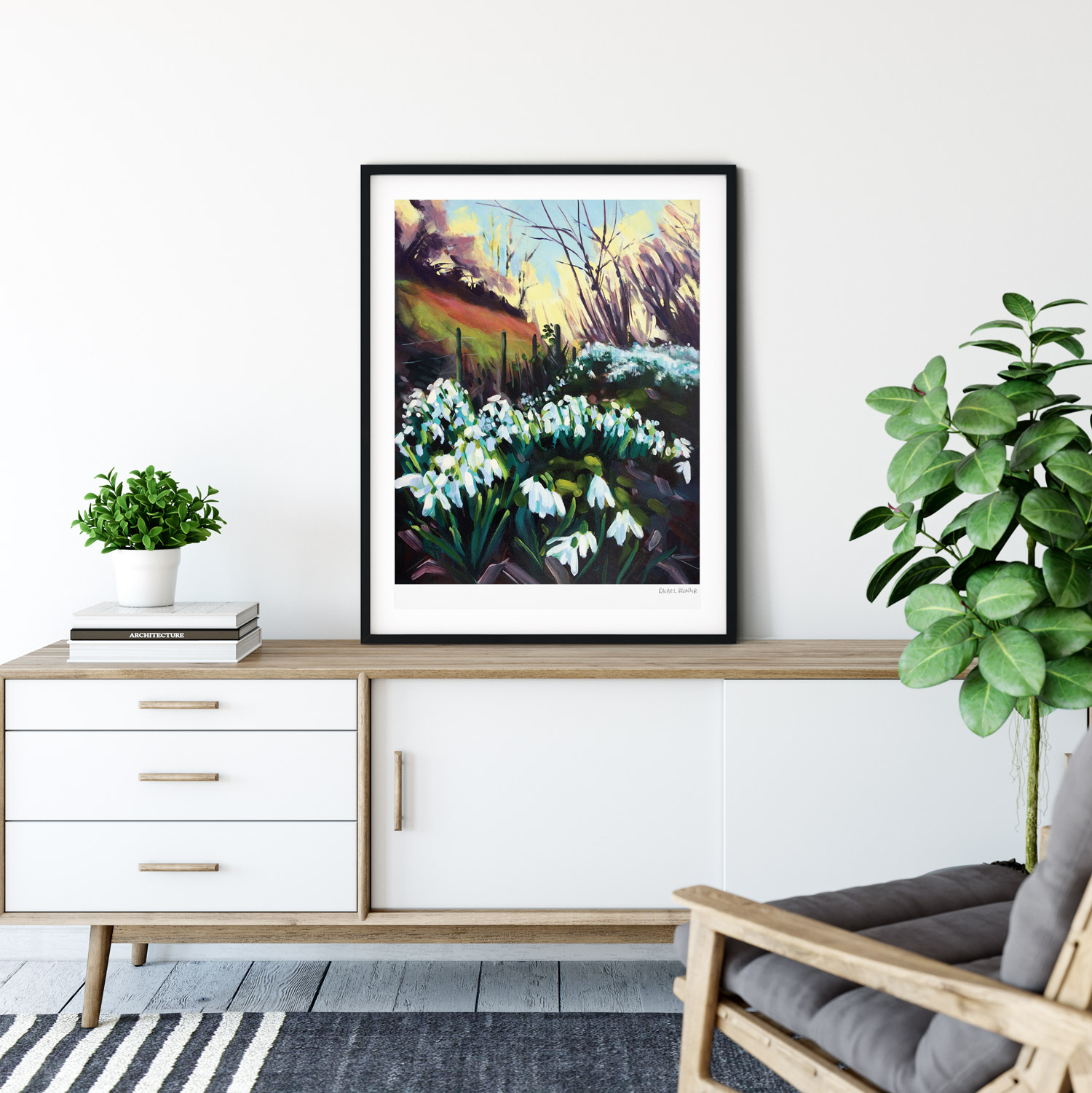 You've already answered this in some ways.  What do you love about painting?
From the moment my paintbrush is primed with vibrant colour and those first spirited brushstrokes are placed down on the canvas I'm singing.
Recreating a moment of intense beauty in the world, the light and movement of that experience I know so well, strengthens its memory and the emotions I felt within. It's just as much about the story as it is creating a realistic painting.
Landscapes mirror the stories that live within us.
It's why art is so powerful, capturing so many moods and reminding us of beautiful memories. Having the time and space to gaze on beauty is transformative, especially in the times we live in today.
What's your style?
I paint vibrant contemporary and impressionistic landscapes. Painting both from life and developing bigger works in the studio I transform these landscapes freely applying washes of luminous oils, marbled rivulets and spirited brushstrokes letting them unfold layer upon layer. I like to try and give space for the looseness of those earlier layers to shine through my slabs of oil paint, which can lend an abstract element to my landscapes too.
I usually tend to work on instinct, without too much of a plan. The sense of adventure, being on the edge of experimentation, within a painting is what can bring a sense of life to the art.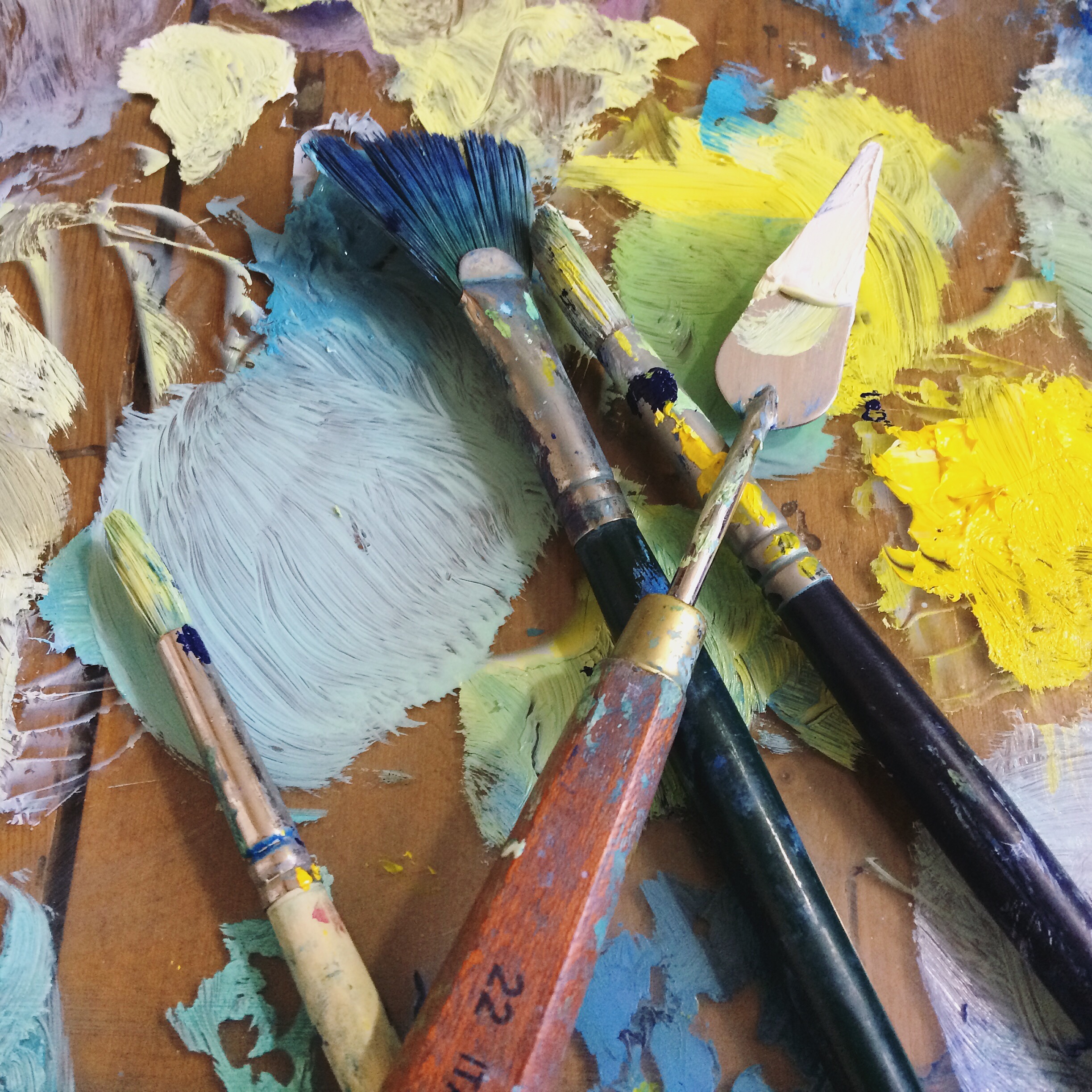 Who inspires you?
Artistically the Impressionists, especially Turner, Matisse & Gauguin and their use of colour inspire me. The latter whom I especially love after seeing many of his paintings in Brittany, France said: 'If you see a tree as blue, then make it blue.' – it's such a freeing invitation to simply embrace how YOU see and one I've taken on board in my art practice to encourage me to paint what I both see and feel.
I'm also inspired by geography and geology, especially the colours, patterns and textures found in the details of beautiful rocks. But it's also the story and science in how the land was formed and shaped over time that can inspire the narratives in my work.
You have a lovely Somerset connection we love having you as part of our community, how does Somerset inspire you and your painting?
Exmoor is one of my absolute favourite places. Even if I'm passing by on the M5 I'll always find an excuse to stop off and stay the night just to get a few moments up on the moors. I spent a couple of childhood holidays around Porlock too but now I have family based there I can stay with.
Exmoor has it all: moorland and the largest stretch of wooded coastline in the UK. The way the sunlight causes the rolling green fields to glow and casts a balmy veil over the yellow gorse and purple heather is simply stunning. It's a melting pot of inspiration and adventure, walking, wild swimming and campfires, all experiences that inspire my art.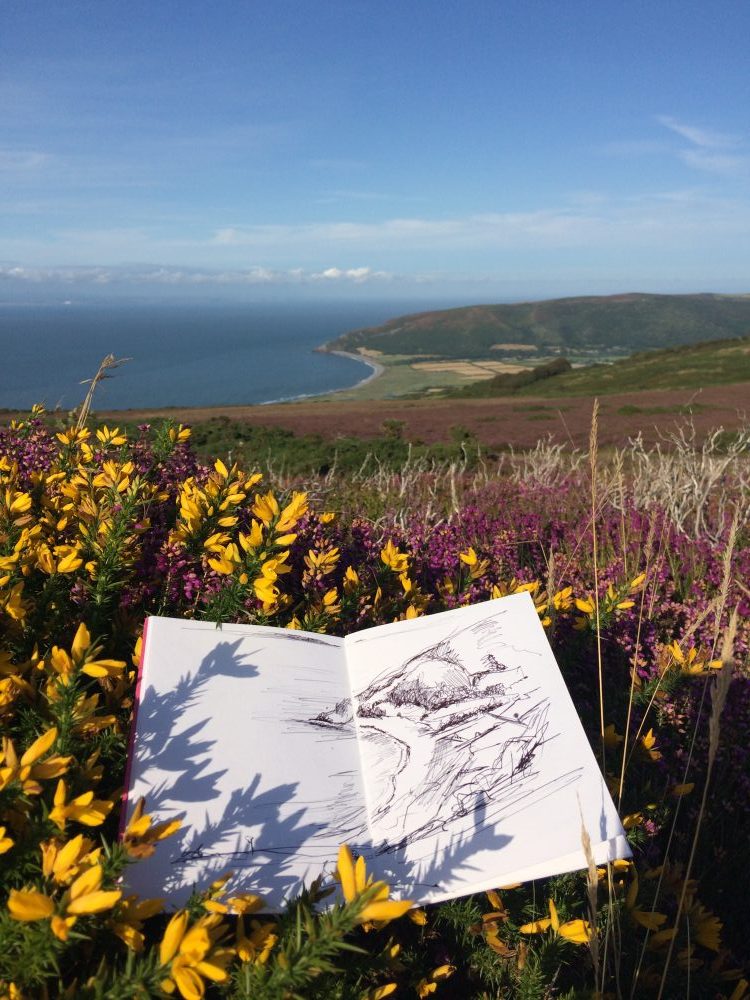 One of my favourite adventures was stumbling across 'Snowdrop Valley' in full bloom near
Dunkery Beacon.
In an unplanned visit I fortunately had my small trusty sketchbook with a mini watercolour set in the bottom of my handbag to capture the moment that inspired the original oil painting of Snowdrop Valley. We caught the early spring sunset behind the trees which set them alight in radiant yellows and the snowdrops began to glow in shades of turquoises.
You can purchase this fine art print in my online store.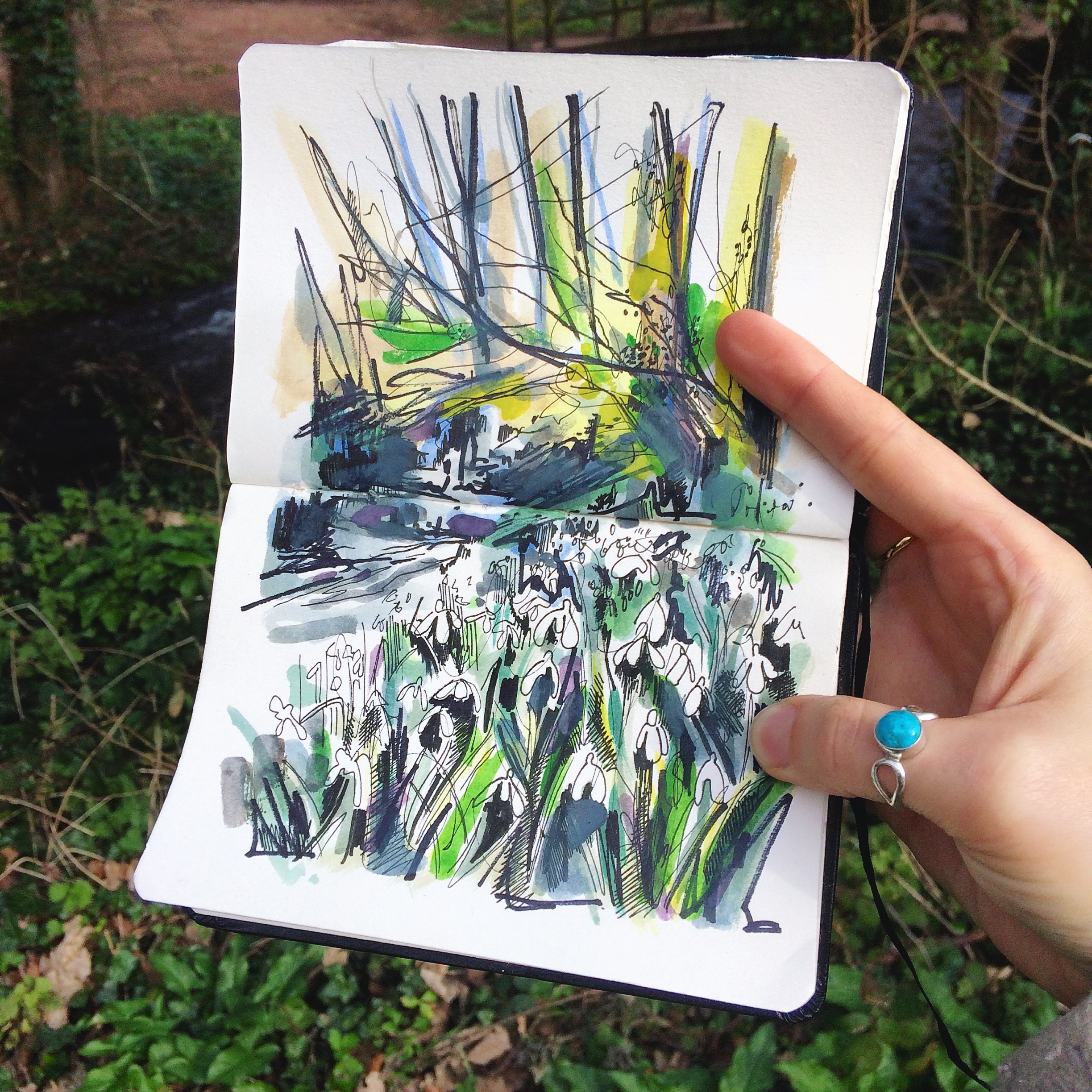 Your paintings are GORGEOUS! What's next for you?
Thank you! As I mentioned earlier beautiful rock formations, colours and patterns hugely inspire me. It has led me to learning and experimenting with a Turkish and Japanese form of marbling called 'Ebru' and 'Suminagashi' because of the rock like qualities you can create. Marbling is the art of floating colour on water or 'size, a thickened liquid, where you can watch and print the dance of colours swirling on the surface of the water.
I'm looking to fuse these marbled patterns within the layers of my oil paintings. There's something about the movement and almost music like quality I'm excited to play with as I develop my painting practice. The paintings 'The Dawn Upon High' (Porlock Bay) and 'Song Over The Landscape' (View From North Hill) are both some examples.
I'm also looking to offer painting and marbling workshops in the near future, and reintroduce that vein again to my art business. There's something about watching others light up when they realise they can create too!
Marbling workshops sound amazing! Sign us up.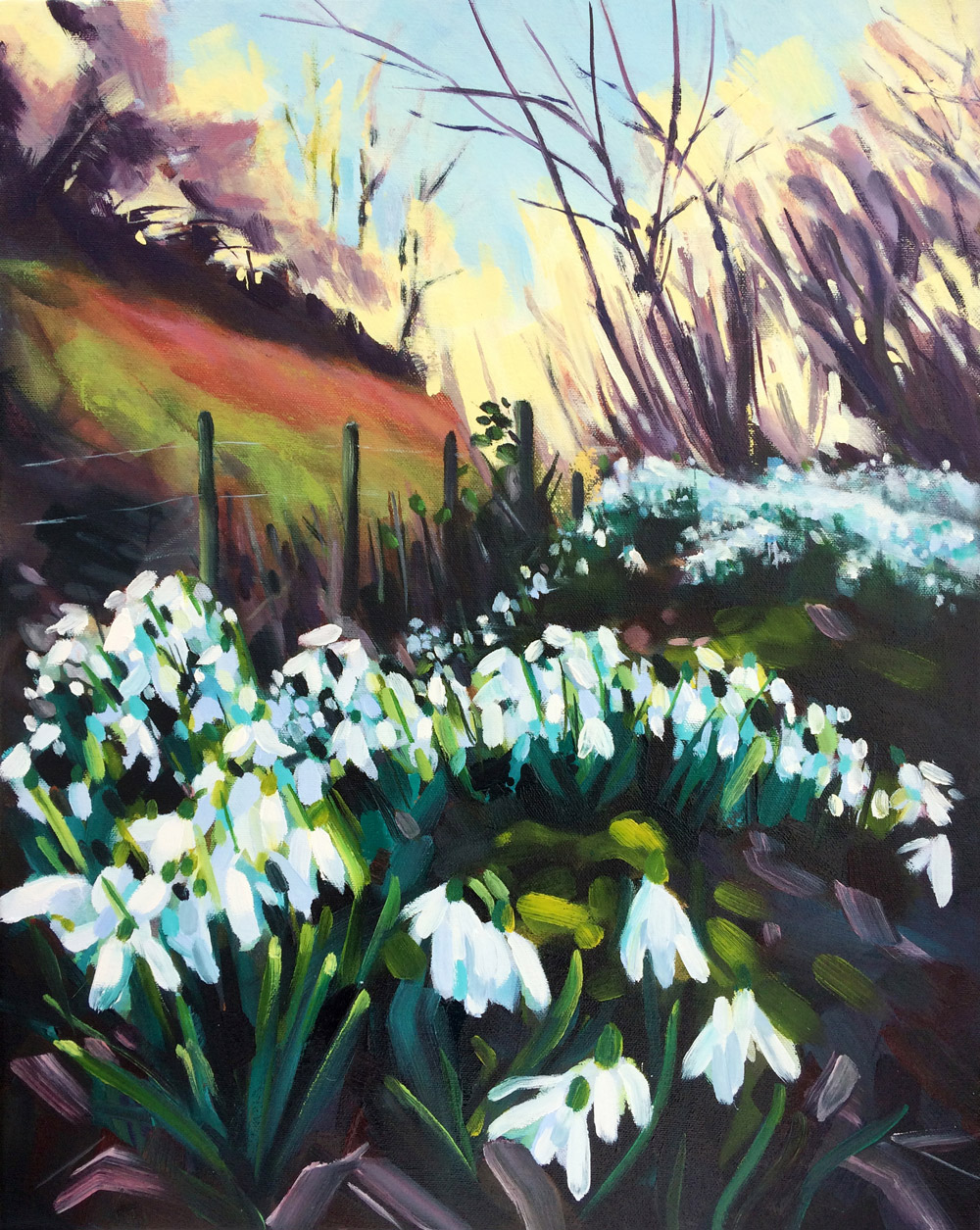 Before you go, I'm intrigued, what do you wish people would know about you?
I love hearing how my paintings evoke happy memories with their loved ones. For example:
"For me Rachel perfectly captures colours and the way she depicts the light – it makes you feel like you could walk straight into her paintings and never want to leave. My piece brings me a sense of joy and peace.
I think that's what I love most, to allow the colour to draw you deeper into the layers of paint, and let you catch the melody it's singing. It's why I call my paintings 'unwritten melodies'. Like music surrounds the space around you, I make harmonies with colour, movement and light to sing a song within my paintings that fills the 'not yet written parts of our story' before us.
Unwritten melodies, I like that.  Thank you to Rachel for being so open and candid, we love her art at Love for Somerset.  You can follow Rachel's incredible journey on:
Visit Rachel's online store and sign up to her Artletter for new art releases, invites to exhibitions and upcoming news:
Join our hub Love for Somerset on Instagram is the place to be.  Got a Somerset Story? Get in touch at loveforsomerset@gmail.com to be featured.  Next month we're talking to Ellis Reed local photographer and mod for Igers Bath.