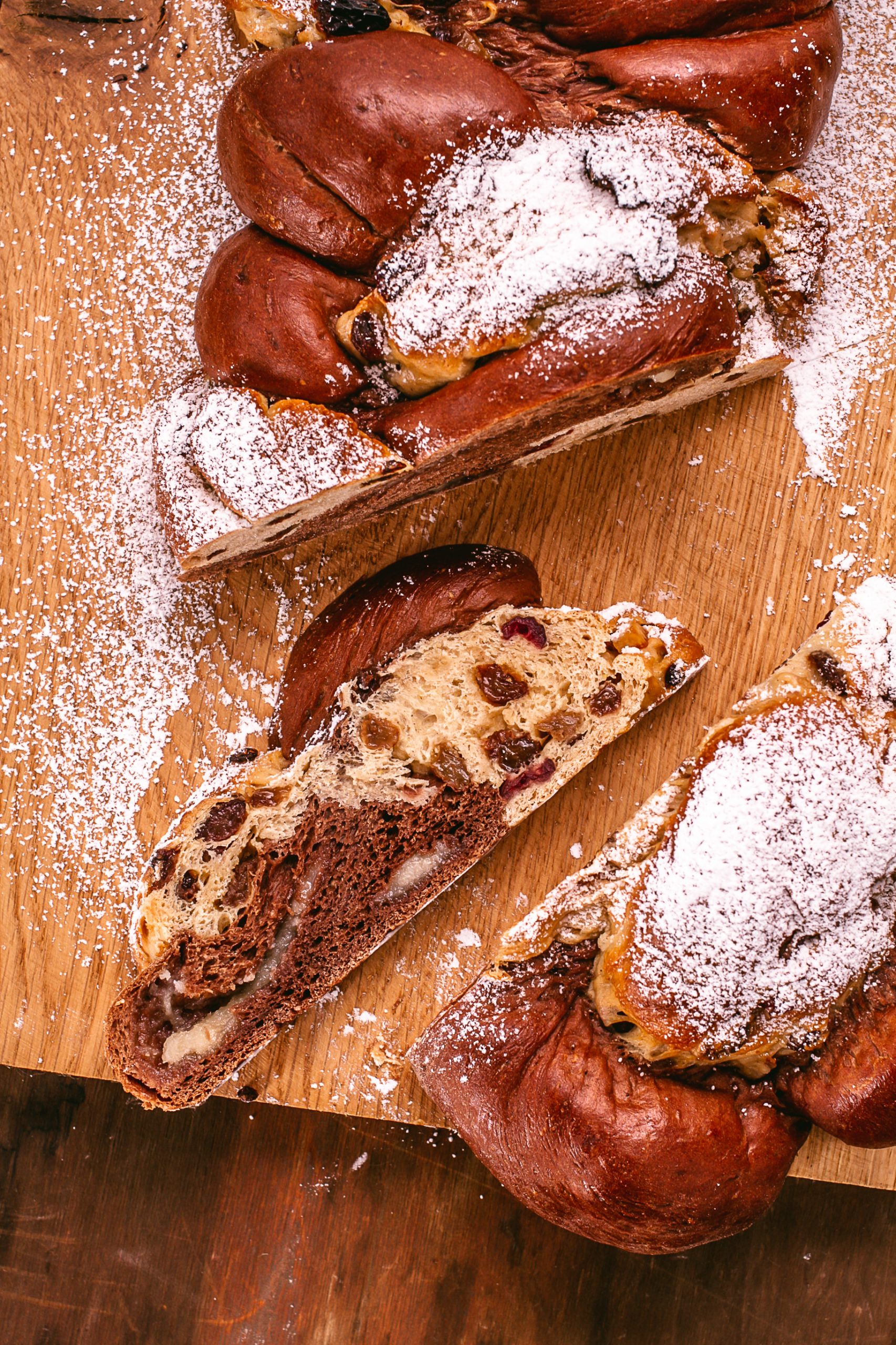 NEW YEAR, NEW RECIPE
Happy New Year's Eve.  Tomorrow is another new year, a new start.
Welcome back to Festive Food with Steve James.  FREE PRINTABLE RECIPES for you to print out and keep.
Thanks to Steve for the wonderful festive food recipes over the past few weeks.  This recipe for coffee, chocolate and orange braided stollen includes one of my favourite Christmas ingredients – marzipan.  To be honest stollen is something you could eat all year round, totally delicious and moreish.
Want the rest of the Festive Food series?
Chocolate and cherry mince pies with sloe gin butter
Smoked salmon ceviche in tigers milk with coriander oil
Dreaming of a white Christmas cake
Duck in passionfruit and rum sauce with quick pickled celeriac
Ready, steady, BAKE!
COFFEE, CHOCOLATE AND ORANGE BRAIDED STOLLEN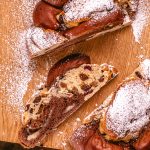 Print Recipe
Coffee, chocolate and orange braided stollen
Equipment
Stand mixer with dough hook

scales

measuring spoons

Saucepan

Wooden spoon

bowls

Rolling Pin

Pastry brush

Baking tray

baking parchment

sieve

Clean tea towels

Airtight container

Cooling rack
Ingredients
225

ml

whole milk

2

tbsp

golden syrup

80

g

unsalted butter

450

g

strong white flour

7

g

fast action dried yeast or 15g fresh yeast

2

tsp

mixed spice

½

tsp

salt

1

zest

orange

finely grated

1

tbsp

instant coffee

1

tbsp

cocoa powder

1

tbsp

water

130

g

mixed dried fruit

soaked in Thatcher's Katy cider

5

tbsp

Thatcher's Katy

150

g

marzipan

Icing sugar

for dusting
Instructions
Heat the milk, butter and golden syrup in a saucepan over a medium heat until the butter has melted. Stir regularly to stop the milk catching on the bottom of the pan.

Using a stand mixer with dough hook fitted, add the flour.

To one side of the bowl add the yeast.

To the other side of the bowl add the salt, mixed spice, orange zest, egg and milk mixture.

Beat in the stand mixer until smooth, 'elastic' and starting to come away from the sides of the bowl.

If you don't have a stand mixer, mix in a bowl, tip onto a floured surface and knead for 10 minutes.

Divide the mixture evenly in half.

Mix the cocoa, coffee and water to smooth thick paste.

Put one half of the dough into a bowl and cover with a clean tea towel.

Put the other half back in the stand mixer and add the paste.

Mix until fully incorporated. Again this can be done by hand.

Place into a separate bowl and cover.

Leave to prove for an hour to 1 and ½ hours

Tip the doughs onto a floured surface and knock out the air bubbles, keeping the dough separate.

Knead the soaked mixed fruit into the plain dough

Roll out the plain dough into a 20cm by 20cm square, roll up and divide into two 10cm strips.

Roll out the chocolate dough to a 20cm square.

Roll out the marzipan so it becomes one long strip the same length as the dough.

Place the marzipan on the chocolate dough and roll it into the dough. Divide into two 10cm strips.

Roll each of the four strips using the palm of your hand until they stretch to 20cm in length.
To plait the stollen
Lay all four strips on your surface so they are all in the same direction.

At one end squidge them all together.

To plait, fold the right most strip into the middle crossing one strip.

Fold the left most strip into the middle crosing two strips.

Repeat these steps until the whole loaf is plaited together.

Squash the end together and tuck under.

Transfer to a baking tray lined with parchment paper.

Cover loosely with a clean tea towel and leave to prove for 30 minutes to an hour until double in size.

Meanwhile preheat your oven to 170°c fan assisted.

Gently uncover your stollen and brush with beaten egg all over.

Place in the oven and bake for 30 minutes until golden.

TOP TIP: It's ready if it sounds hollow when tapping on the bottom

Transfer to a wire rack to cool and dust heavily with icing sugar before serving.

It will keep for days in an airtight container.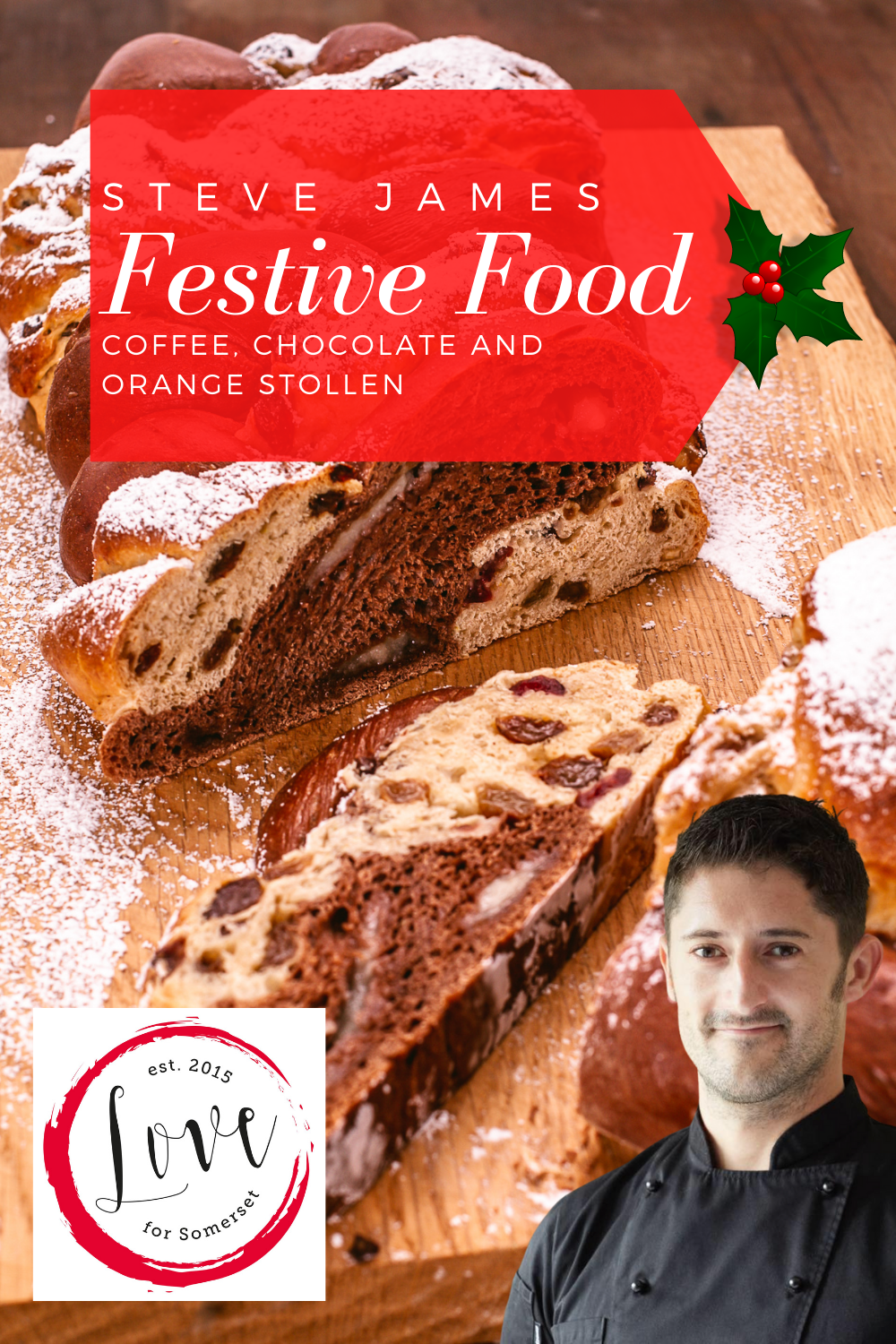 Follow us on Instagram