Musing on Homewood Bath's new Al Fresco dining at Olio you'd be forgiven for mistaking your location.  Slap bang in the middle of Somerset, Olio feels more like the terrace patio restaurants of the Mediterranean.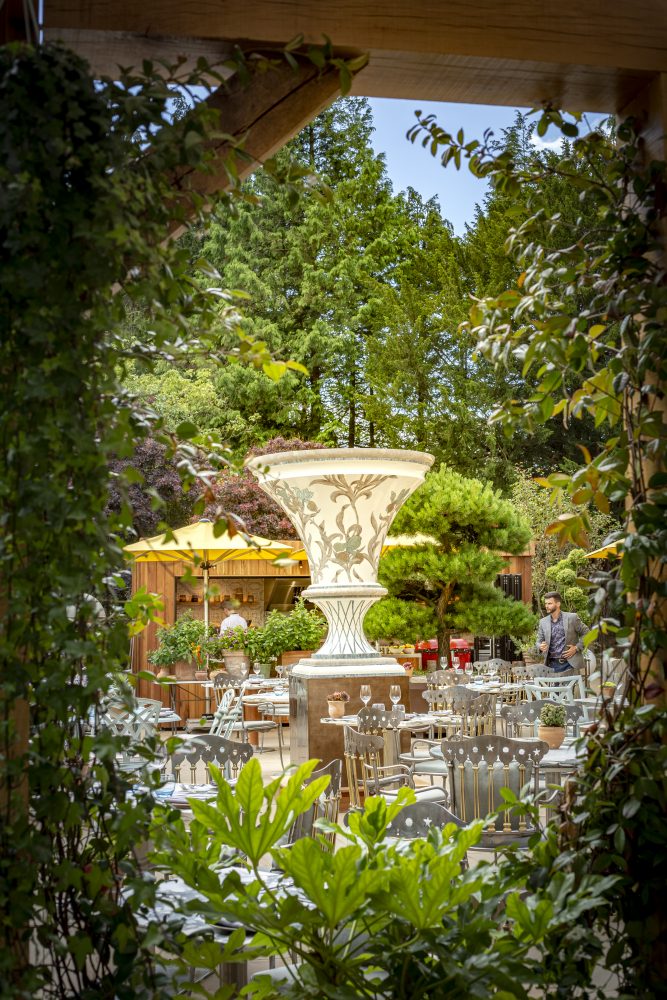 Gazing over the Alfresco terrace you can't help but notice the imposing vase feature.  Inlayed with abalone shell, it catches your eye.  A delightful personality to anchor the grand and tranquil space.
Olio Al Fresco Cooking and Dining
Serving the best of British and Mediterranean food from an incredible outdoor kitchen, we were encouraged to share a Hearty Salad and embrace the Skillet menu, all cooked to order.
Complimentary breads kicked off our lunch, followed by roast sweet potato, creamy avocado and tomato salsa salad garnished with fresh (homewood grown) herbs from the herb wagon.  Big enough to share and washed down with JARR Raspberry Kombucha and Hildon bottled water.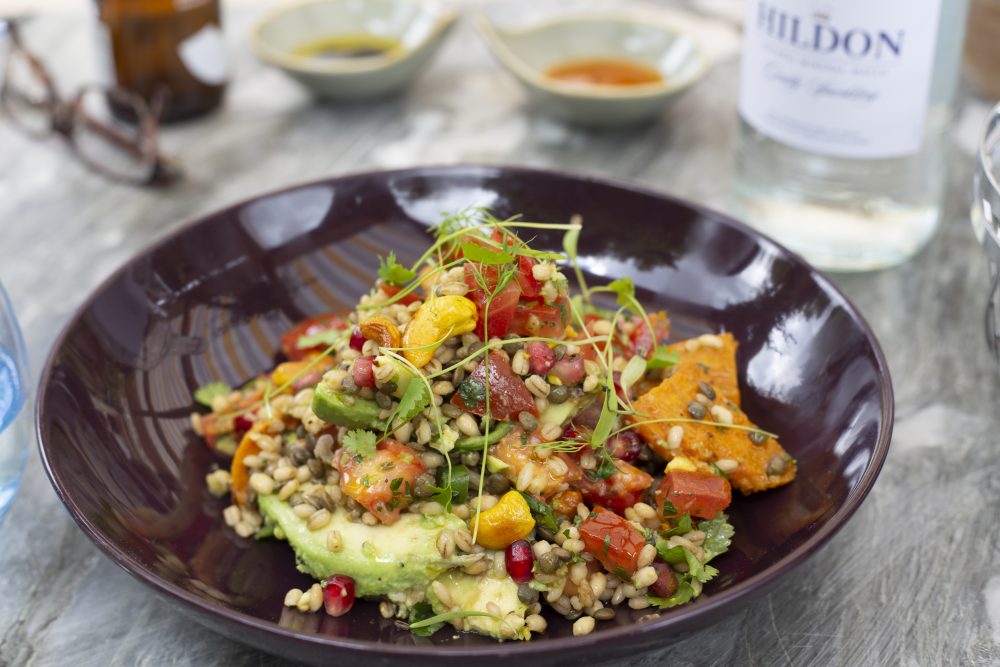 For Kim's main course an adapted Vegan dish; Stir fried noodles with deep fried tofu and sesame seeds.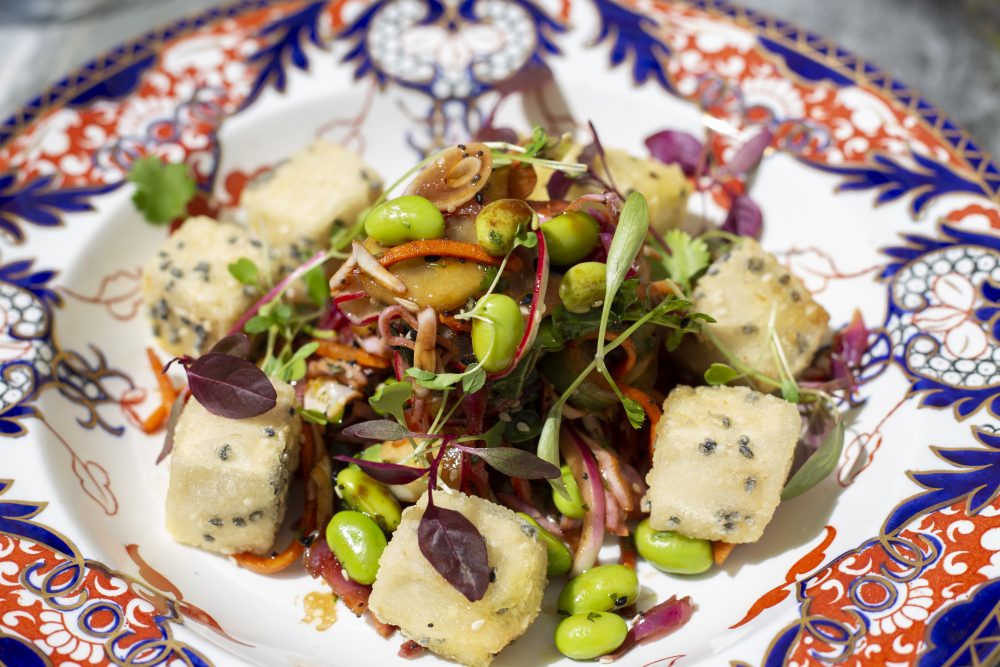 Pinkest fillet of salmon with the tangiest salsa verde for me.  Simply presented and packed with layers of flavour, we noticed that I was given the blue plates, while Kim's were more decorated.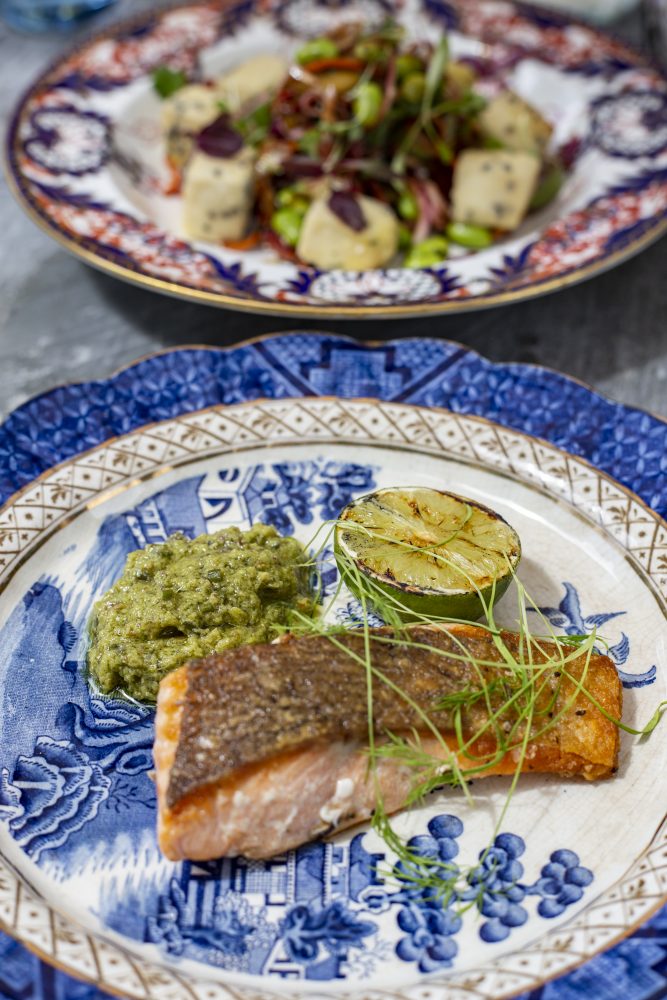 Homewood Bath owners (hoteliers Ian and Christie Taylor) love plates and have a vast collection.  Each vintage plate is different and from their personal collection. The couple's eclectic art collection is evident throughout the luxury hotel.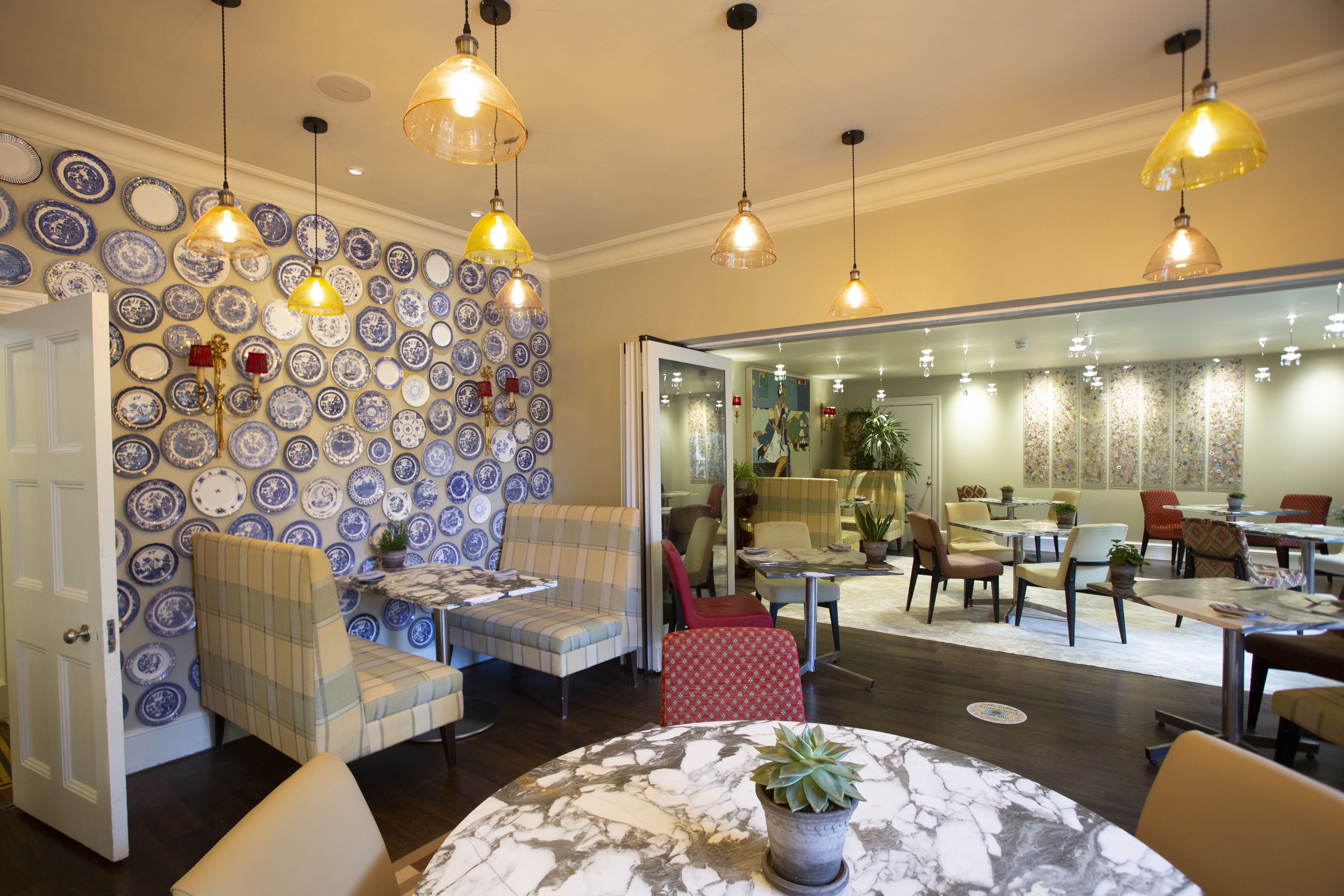 Homewood Bath's indoor restaurant set up in case of a sudden downturn in the British weather.
Just Desserts
Fresh, delicious desserts were tough to choose, Kim remarked her Marshfield sorbet was like the freshest good quality iced lemonade.  Served with chopped fruits, Marshfield lemon sorbet and passion fruit coulis.
Blueberry and Almond Tart with Creme Fraiche, stunning on the vintage plate.  Rounded out with strong black coffee for the journey home (Soya Latte for Kim and Americano for me), we didn't really want to leave to be honest.  We felt so at home at Olio.

Olio Al Fresco Terrace
Framing the entrance of Olio at Homewood Bath's new terrace are two huge terracotta vases, the terrace is like being transported to the best smash up of Somerset and Italy you can imagine.  Quality and hospitality are the two words that kept coming to mind.  And heart.  God yes, tons of heart and tenacity and a willingness to serve and make guests happy.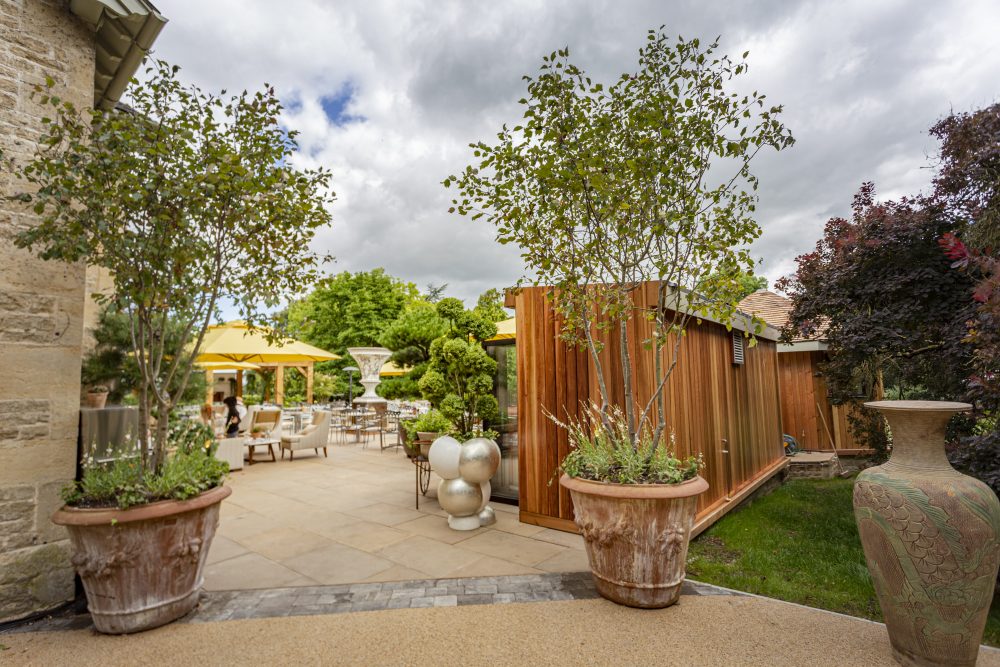 Chefs answer questions while they sizzle your steak or pour oil on your wood fired pizza.  Options galore include picnic afternoon tea, takeaway, burgers, pizzas.  The list goes on and on.  There's something for everyone on this menu and if it's not on the menu they'll find a way to make it happen anyway.
Serving staff are attentive, authentic, amiable and have an ease about them while being extremely courteous and respectful.  Answering questions about the new terrace and the food with great knowledge.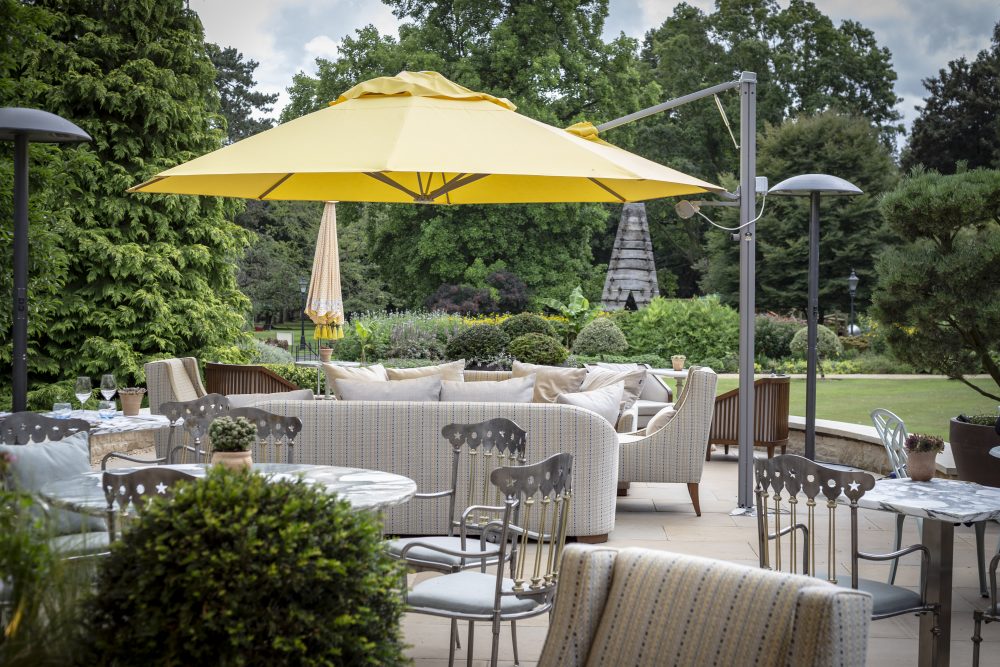 Pops of canary yellow from mega parasols accentuate the more relaxed coffee style areas, while Cafe Del Mar style music sits softly in the background.
Set in landscaped gardens with the hotel behind, marble and stone dining tables are decked with aqua blue glasses and ivy swings in the breeze from the huge oak pagoda.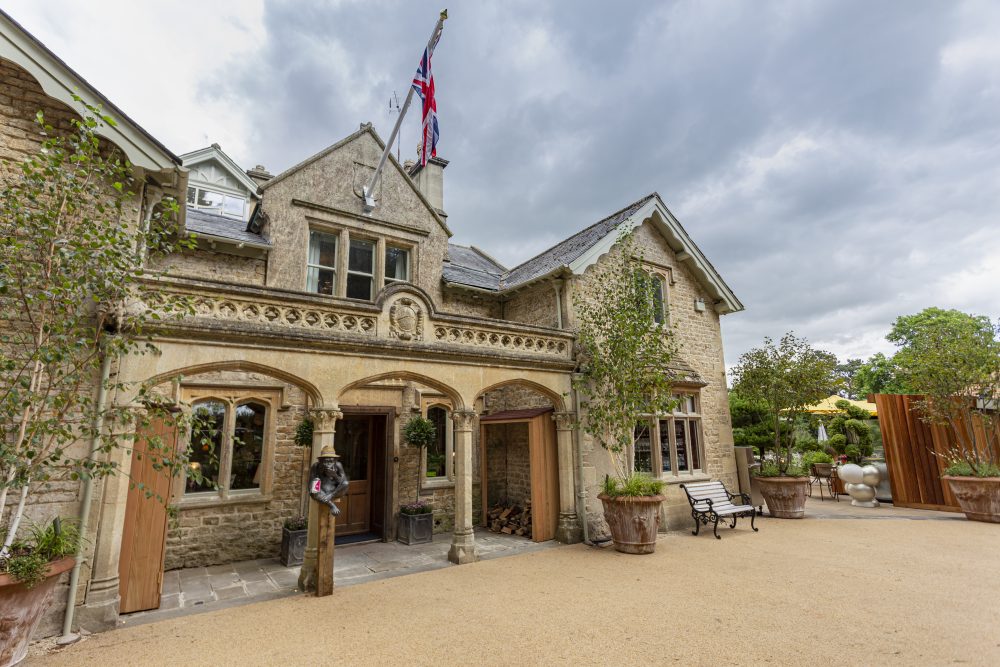 Next to our table an open air fireplace.  Autumn evenings set to be different in Freshford from now on!
Especially for the Freshford community where Homewood nestles.  Including Freshford FC, whom Olio has kept supplied with roast dinners, afternoon tea, burgers and fish and chips over lockdown.  All for charity.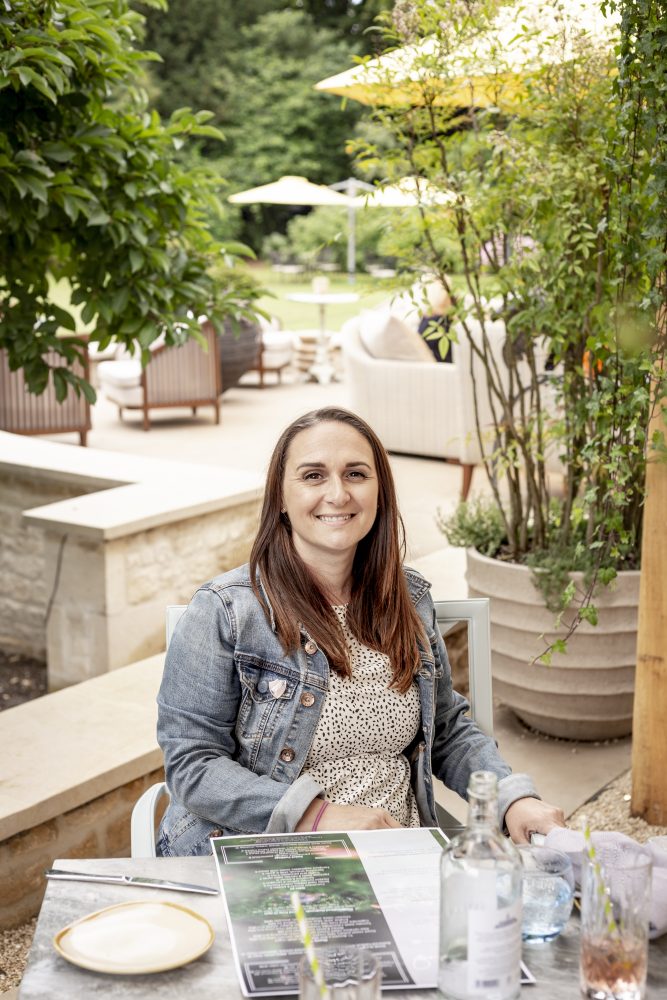 Secluded area under the pagoda next to the open air fireplace.  Stunning and relaxing.
Homewood Delights
Delights include a huge 'grass' bear in the garden, a poodle called Susie winking through the bushes and Oswald the chimp who welcomes you to Homewood Bath offering hand sanitiser.
Dogs are welcome at Homewood Bath too even at breakfast, with a separate Dog Menu including Dog Ice Cream from local favourite Marshfield.
Cocktails in the evenings made possible by outdoor heaters and clever lighting, you really could be anywhere in the med.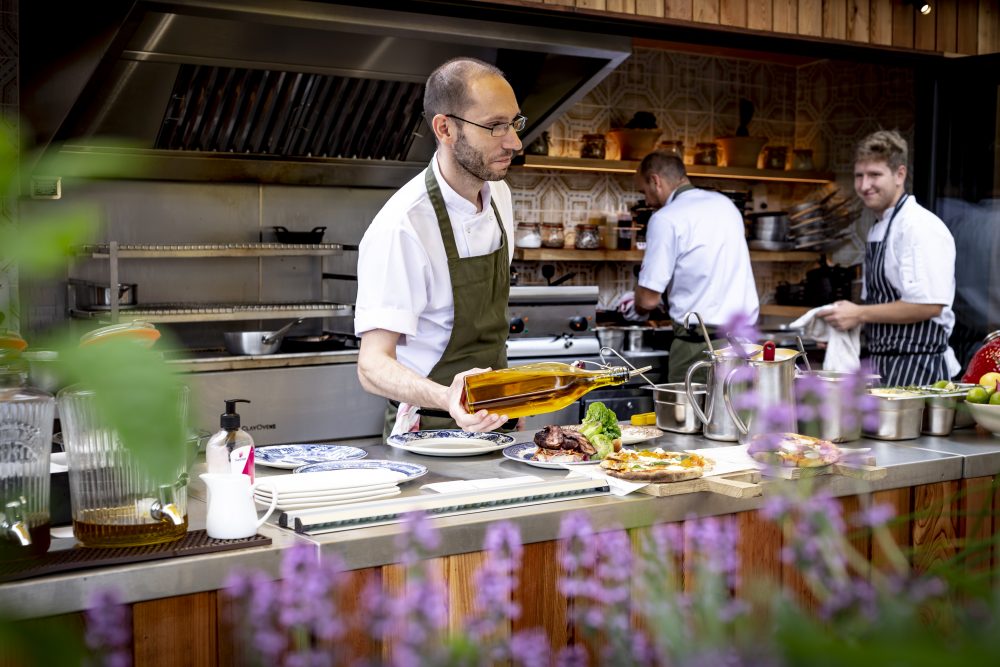 Stunning views across the Freshford Valley bring you back to Somerset.  The stone gives it away too, with the restoration and newly built suites using the same Bath stone the original house is constructed from.  Somerset producers are used wherever  possible, including Marshfield Ice Cream, which formed the centre piece of Kim's mind blowing pud.
Homewood Luxury
With a spa, outdoor swimming pool, jacuzzi and suites with private gardens, you could stay here a week and not leave the immaculate grounds of this beautifully restored luxury Country House Hotel.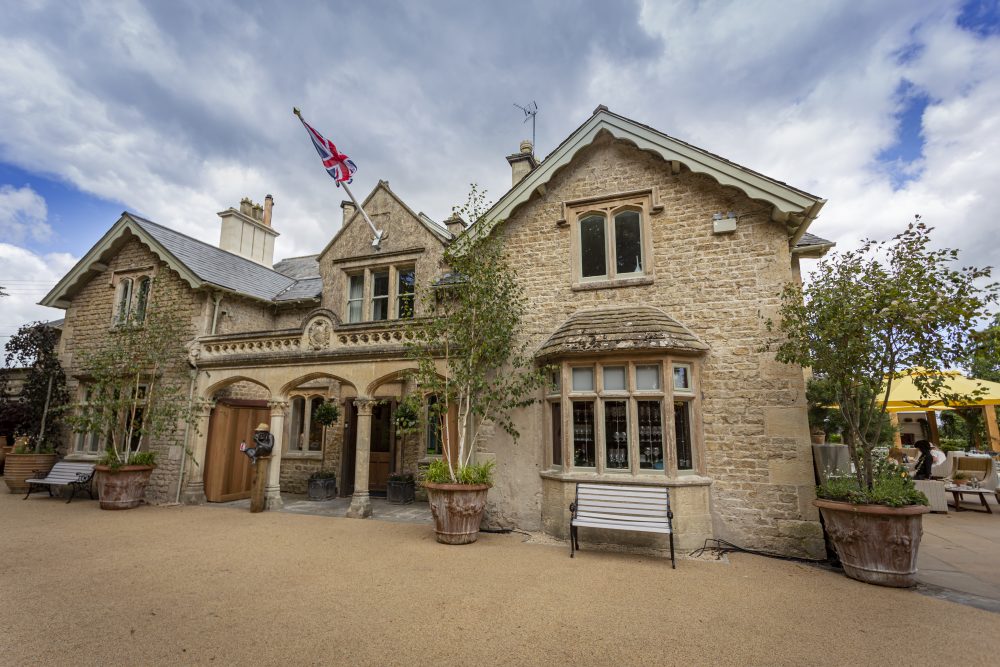 Personal touches are evident.  From the owners' vast art collection (a mini yellow submarine greets you by the sweeping driveway), to quirky interior decisions including a multitude of clocks, plates and dazzling lighting.
Can't decide on one chandelier? Have them all!  More is more I say.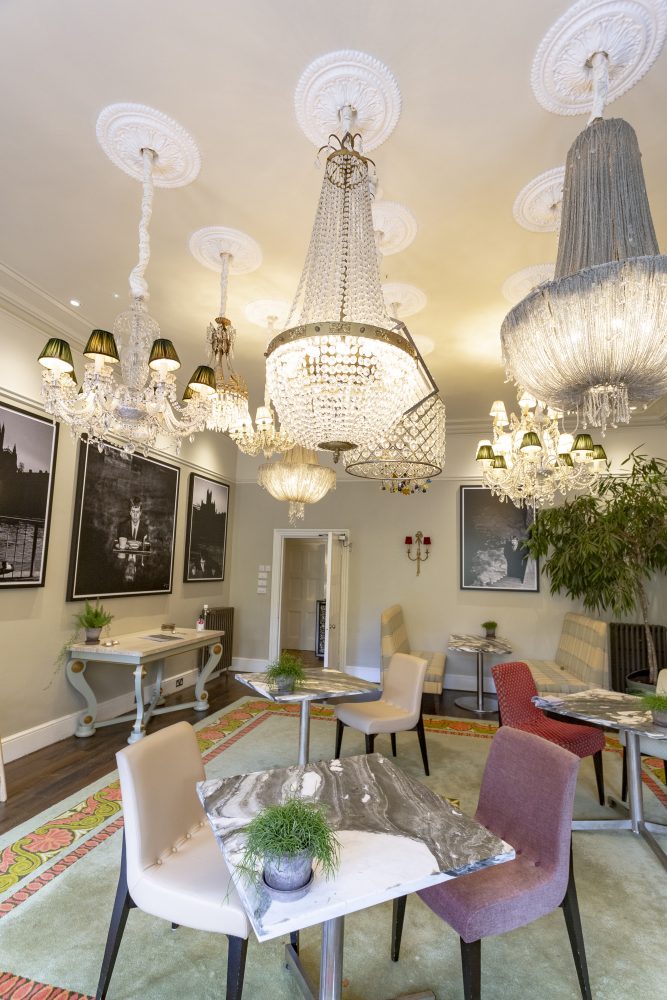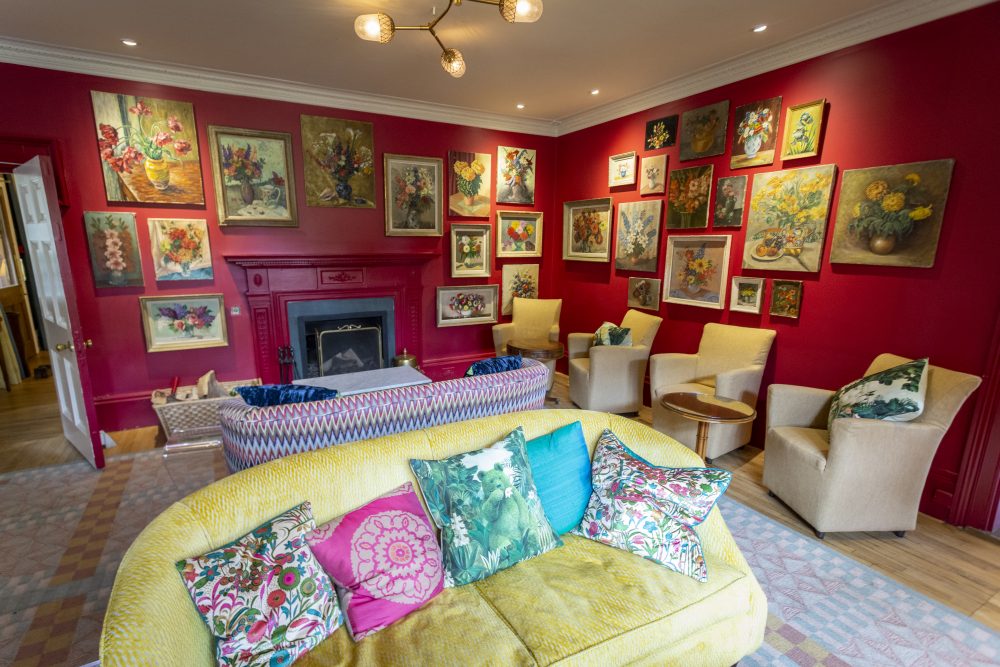 Cosy lounge bar at Homewood Bath
Olio is signed up to Eat Out to Help Out.  A Government incentive to get us all eating out again with confidence.  Booking is essential.  Contact the hotel for more details.
Safety first
Tables are spaced and more secluded spots available by request.  Menu's are on paper and used once.  And don't forget Oswald the hand sanitiser holder.  Hand sanitiser is provided throughout the hotel.
LFS Seal of Approval
Olio, Homewood Bath's new Al Fresco terrace and patio restaurant is now open.  There's something for everyone at Olio.  Another Somerset gem we're delighted to award with Love for Somerset's whole hearted seal of approval.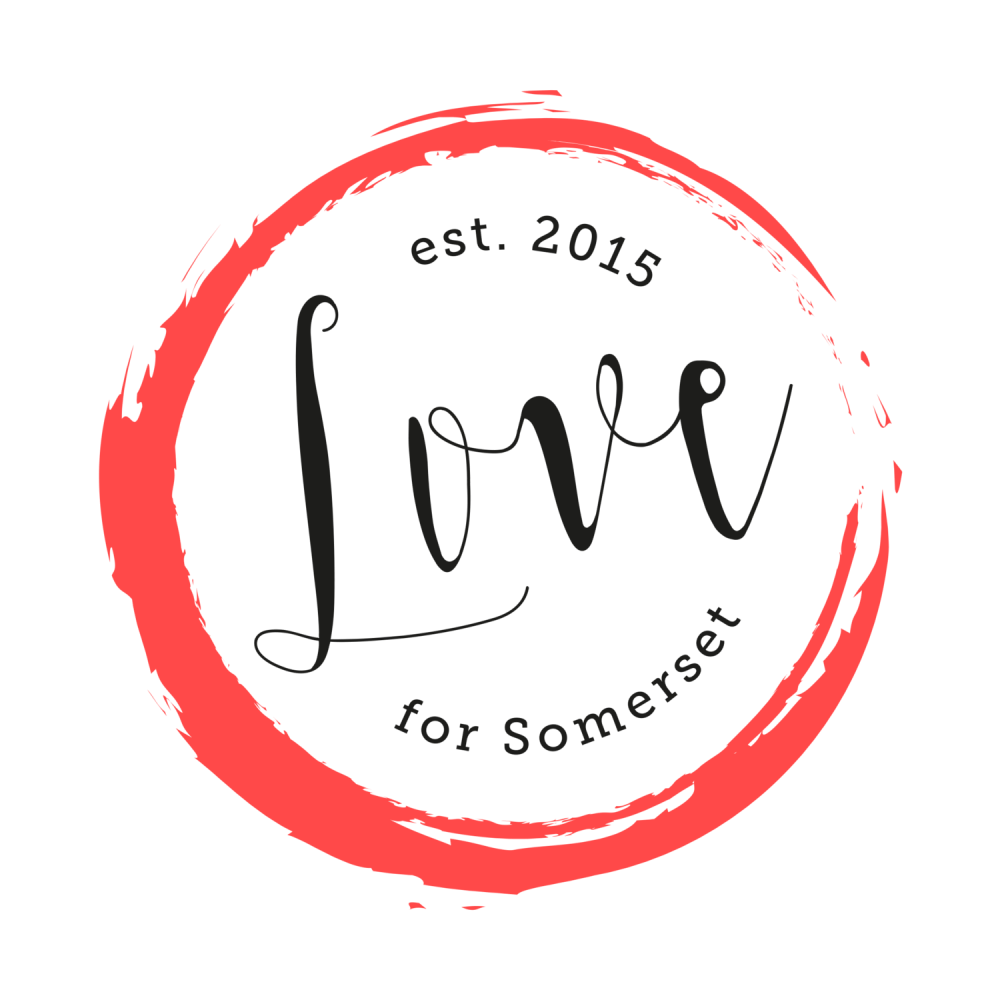 Follow Homewood Bath
Ring: 01225 723 731
Email: reception@homewoodbath.co.uk
Disclaimer: we were invited to dine at Olio for the purposes of this review.  All words and opinions are mine and 100% honest.