The first of our brunch posts in search of the best breakfast in Somerset.  We're serving up 5 refreshing and Instagrammable brunch places in Bath to update your breakfast list.
Upping the ante for late breakfast, our round-up may seem eclectic….because it's not all about the fry up anymore. Yes, our love of brunch runs deep (brunch is late breakfast and early lunch smushed together) and lots of places serve amazing breakfast in Bath.  This delicious list oozes lots of choice with trendy cafes with amazing ambience plus great service.  Yes we want it all! (Sorry, not sorry).
And if that trendy cafe can also deliver the Instagram aesthetic we've become accustomed to…..That's the sweet spot.
1. Bills Restaurant – 7-8 Cheap Street, BA1 1NE
A chain mainstay on the high street, the quality at Bill's can't be denied.  The branch in Bath serves breakfast until midday all week, and 1pm on weekends.  Bill's Garden Breakfast is one of three vegetarian options on the menu, with poached free range eggs, halloumi, roasted plum tomatoes, charred red peppers, smashed avocado, hollandaise, pea shoots, mixed seeds and toast all for a reasonable £9.95.
Also, the meat eater is catered for with the usual (and very well presented) Full English Breakfast at £9.50.  Stackable pancakes (is there any other way?) with banana, strawberry and blueberry with Bill's Pancake Syrup for £8.95 for a 5 stack or swap your fruit for streaky bacon with Bill's Pancake Syrup for for £9.95.  Sweet tooth heaven rounds up brunch at Bill's nicely.
Vegetarian Breakfast includes gorgeous herbs and spices to give the food and diner a real lift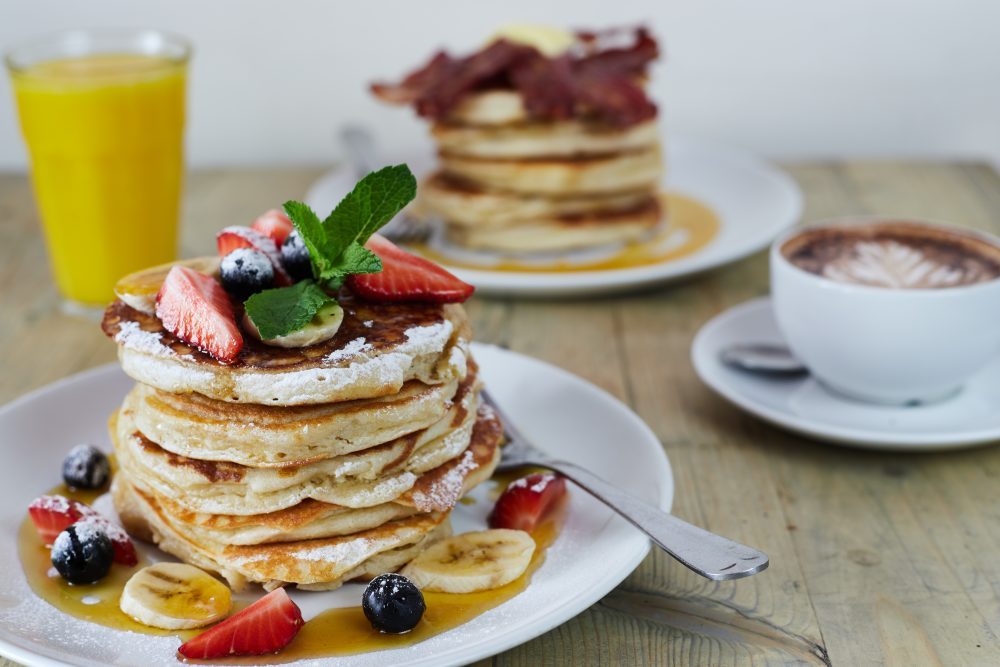 Stacked pancakes with syrup and fruit
See Bill's Restaurant Bath for the full breakfast menu.
2. Sweet Little Things, 6 Lower Borough Walls, BA1 1QR
Vegans can get in on the brunch act too with options such as jackfruit flatbread with a blueberry muffin at sweet spot Sweet Little Things.  You won't find a prettier spot for afternoon tea for that matter.  With roses floor to ceiling and a swing to imagine you're in a summer meadow.  Independent tea room and bakery, highly Instagrammable and run by Mother and Daughter duo Fiona and Natalie, these women have taken a simple concept and elevated by 1,000,000.  Serving vegan cakes, cooked brunch and the heaven sent stackable pancake.
3. Good Day Cafe, 12 Upper Borough Walls, BA1 1RH
Steph had only one vision when opening her cafe, you should have a good day every day!  So the Good Day Cafe and the tagline 'helping you have a good day, everyday' was born.  Dogs are welcome in this fresh, contemporary and trendy spot in the Upper Borough Walls area of Bath.
Comfy chairs and wooden topped tables are surrounded by neon lights, huge windows, and plants with names.  The red velvet cake alone is likely to get it's own # if cake is your brunch of choice.
Breakfast is served all day, choose from the usual Full English £8.95 and Veggie English at £8.25, and delightful Good Day Cafe unique options such as Good Day Granola Bowls with yogurt and either banana+honey or blueberry compote for £6.50.
4. Cafe Au Lait, 12-14 Dorchester Street, BA1 1SS
Family run, independent cafe opposite the train station in central Bath sits Cafe Au Lait.  Read your broadsheet while you await your train.  A welcome stop after travelling or before you go, daily luggage storage is available.
Brunch can be anything from buttermilk blueberry and banana pancakes for £6.50 to spicy Shakshuka for £7.95.  Vegan pancakes are available + variety of milks for porridge and frothy coffees.  A full english will set you up for £8.50 while a "Bloody Mary" with vodka, tomato juice, tabasco, worcester sauce, lemon and seasoning will sort your sore heads for £6.50.  For mimosa lovers, that's on the menu too.  When can I come?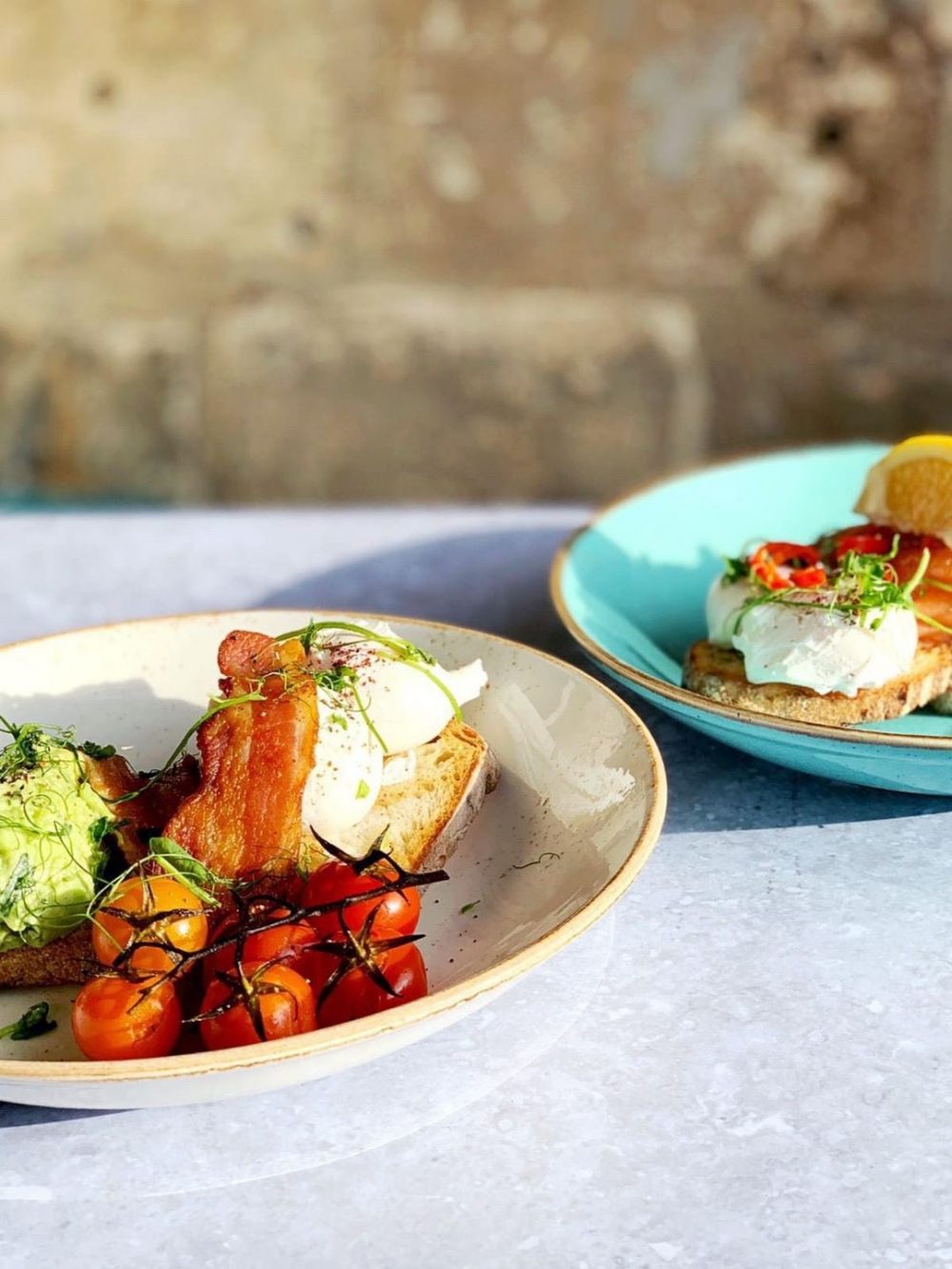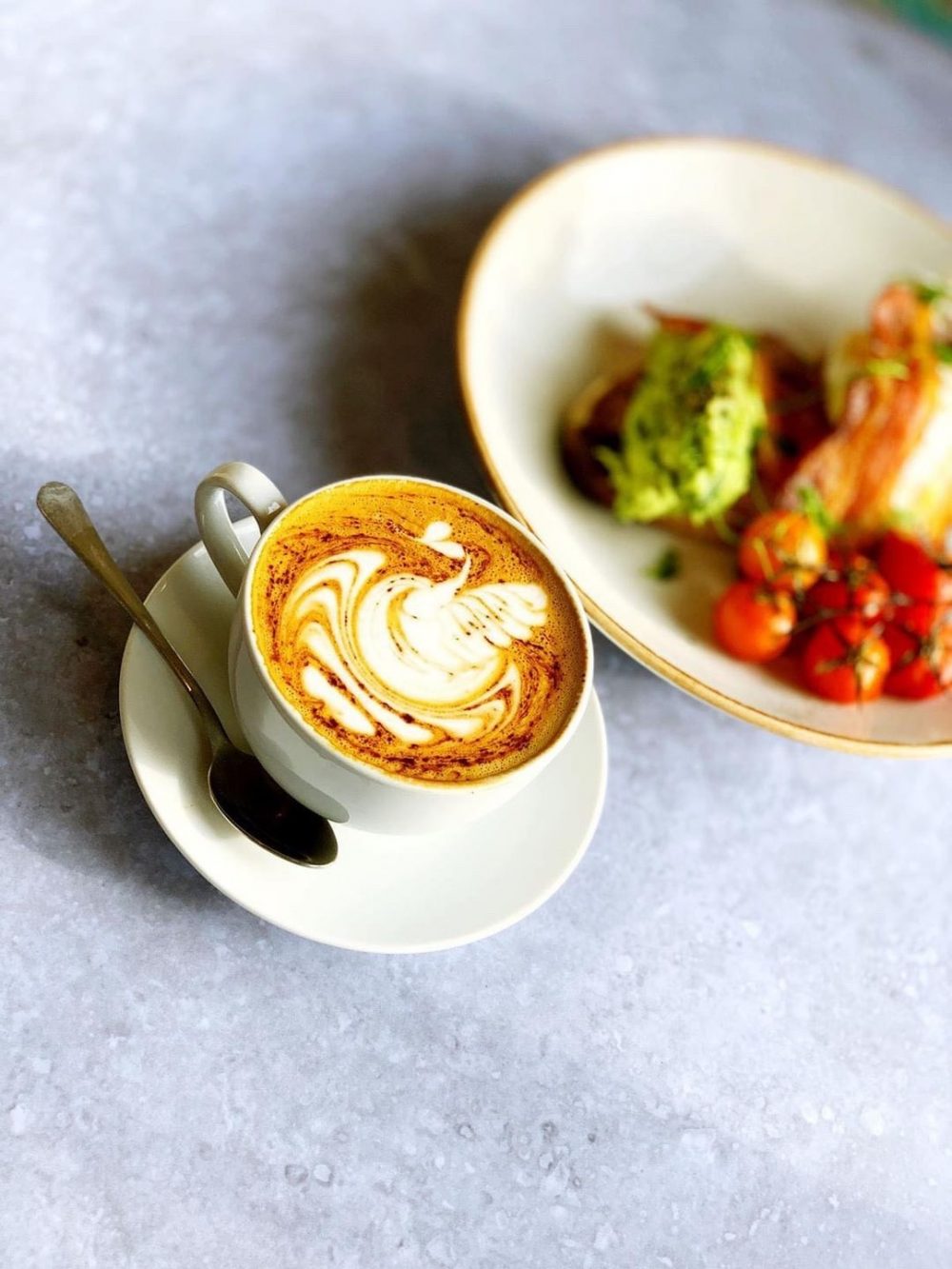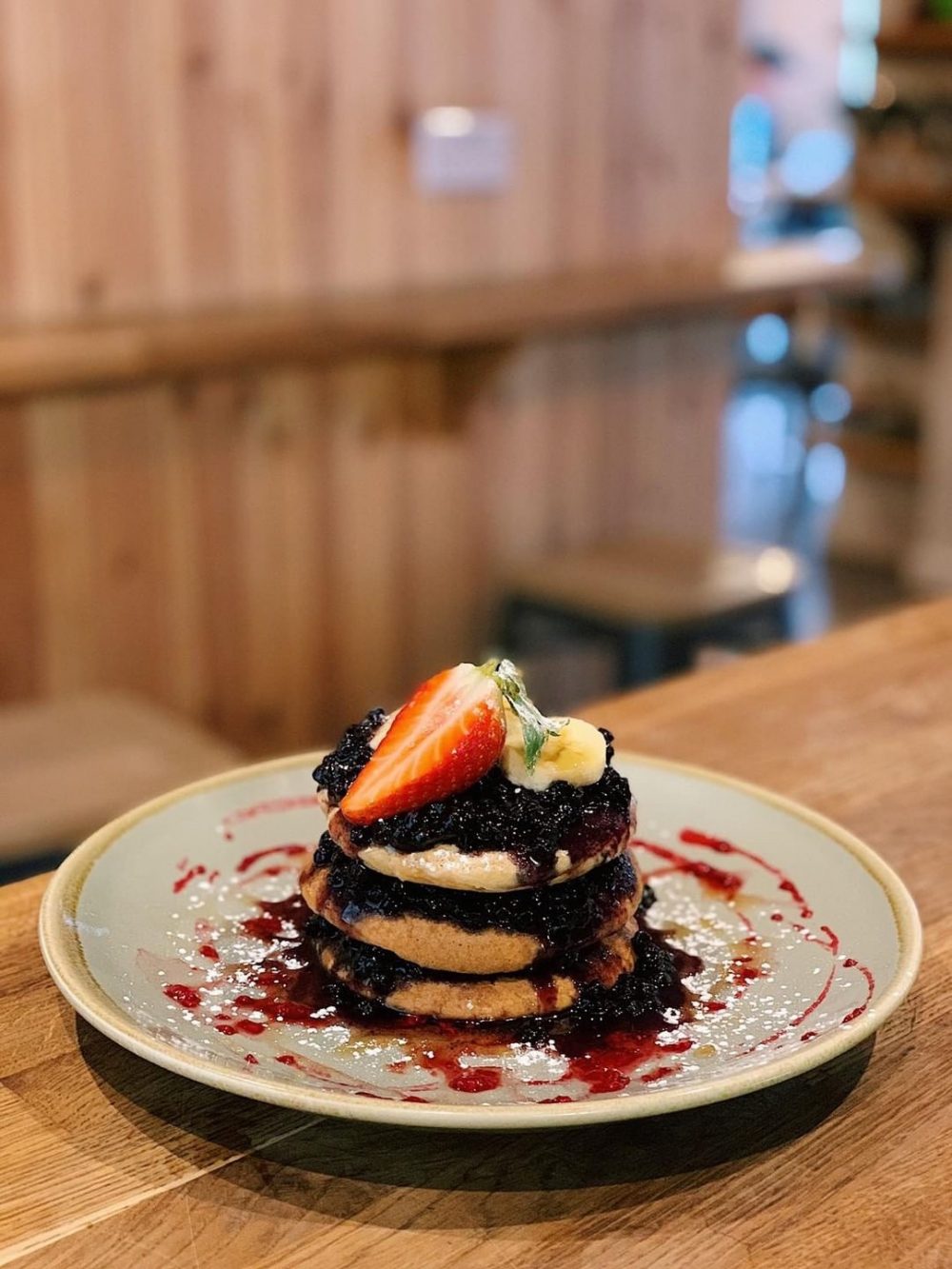 5. PUMP ROOMS
Last, but no means least is there anywhere more typically 'Bath' than the Pump Rooms?  Serving a 'morning menu' rather than brunch per se, this grand Georgian assembly room has chandeliers, moulding to die for and (if you're lucky) a string trio.  The morning menu serves such dishes as 2 poached eggs on a lightly toasted English muffin, Hollandaise Sauce with choice of Wiltshire ham, wilted spinach, smoked Scottish salmon or Grilled Mushroom from £8-£9.50.  Or perhaps a traditional Bath Bun would tickle your fancy… Jane Austen herself wrote of Bath Bunns in a letter dated 1801.  Bath bun is a sweet roll made from a milk-based yeast dough with crushed sugar sprinkled on top after baking. Variations in ingredients include enclosing a lump of sugar in the bun or adding candied fruit peel, currants, raisins or sultanas.  Traditional Bath Bun with Cinnamon Butter will set you up for £3.75.  Food here is excellent and service top notch as one would expect!
And that rounds up our refreshing and (highly) Instragrammable Brunch places in Bath.  We're as happy as sourdough toast smothered in avocado (with chilli flake sprinkles) and a green matcha.
Where do you love to go for Brunch or Breakfast? Use #LoveForSomersetLocal on Instagram.