Glastonbury 2020 50th Anniversary is hotly anticipated to be the best Glastonbury Festival EVER.  Already celebrated as the most famous festival in the world.  With the 2019 cleanup just beginning, we've got all the info you need to get tickets for 2020.
Watching the incredible BBC coverage the enormity and scale of the production is clear.  Bands from all over the world play stages big and small. Did you watch?
Glastonbury 2019 GOLDEN MOMENTS
Headliners such as Stormzy (took us to church), The Cure (took us back), The Killers…just killed it.  See the rest of the Glastonbury Festival 2019 line-up to whet your appetite for 2020.
Festival History
Glastonbury Festival started in 1970 on Worthy Farm.  Just a handful of people (around 1,500) kicked off a revolution that we now know (and love) as Glastonbury Festival.  Which sees a working dairy farm into a 'city centre' of approx 200,000 revellers/tents.  Just for a weekend in sleepy Somerset.
Started by farmer Michael Eavis (now Sir Michael Eavis) ticket price was just £1 and included a pint of milk.   The baton has now been handed to daughter Emily Eavis, who's adding her own stamp to the incredible story of Glastonbury Festival year on year.
With the dairy cows (aka the girls) safely in other fields.  Hundreds of music stages and tents pop up all over Worthy Farm to host artists from humble local bands to worldwide mega stars.
Next summer in June 2020 Glastonbury celebrates 50 years, and the celebrations are shaping up to be hugely special.  If you thought 2019 was big, it's going to be nothing compared to the 50th Anniversary edition of Glastonbury Festival!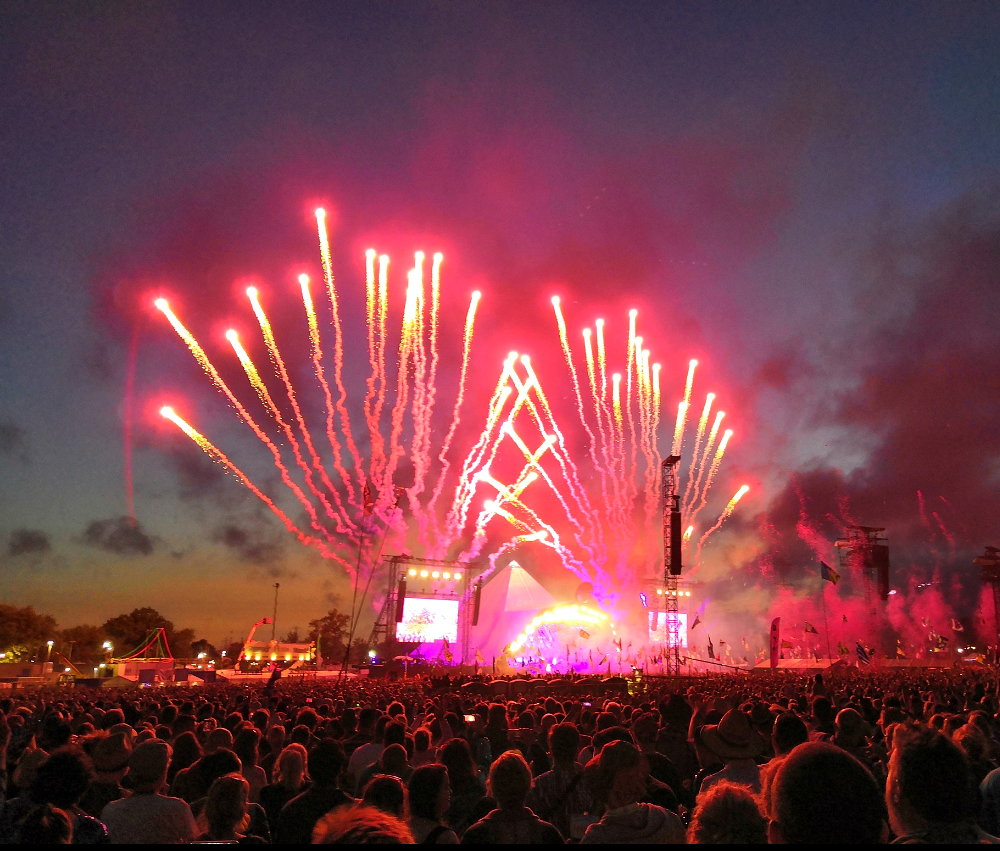 Image credit Kev Burton
Want to come to Worthy Farm for the 50th year? Here's all you need to know: dates, tickets, rumours and registration.  Read on…..
Glastonbury 2020 dates?
Gates open Wednesday 24th June 2020.  The Festival music kicks off 26th-28th June 2020.  Confirmed on the Glasonbury Website.
When do tickets go on sale?
According to Glastonbury's website, www.glastonburyfestivals.co.uk, more information will be revealed in autumn this year.  Traditionally the tickets open for sale in October, with registration happening before this.  You need to be ready, so make sure you're registered before the tickets go on sale.  Hotly anticipated re-sale tickets go up around April 2020.
How much will Glastonbury tickets set me back?
To give you an idea of cost, tickets for Glastonbury 2019 cost £248, plus £5 booking fee. The ticket price includes a charitable donation to the festival partners Oxfam, WaterAid and Greenpeace.  See the hundreds of charities that are supported under the cleverly named Worthy Causes.  Also included, access to the festival, 5 nights camping, programme/mini guide.  There are also charging points and showers, free firewood and a newspaper.
Funds raised from the ticket price also go back into sustaining the working dairy farm the festival is held on each year.
Expect the price to rise around £10, in line with previous years inflation.
Why do I need a register for a ticket?
Because if you don't register you can't buy a ticket! In a security decision, and to stop ticket touting hiking the price of Glastonbury tickets to extortionate levels, organisers introduced a system whereby you sign up with your unique details and a photo to prove ID.  You'll need to include your address, including postcode (tip: don't get your postcode wrong, all details must be correct and match when you buy tickets!) Upload a portrait (passport style) photo of you.  Remember two million people registered to buy Glastonbury tickets last year, so get all your details correct.
Registration is open NOW – organisers recommend that applications are submitted before 28th September 2019.
If you're already registered for Glastonbury tickets since 2010, there's no need to re-register.  If you can't remember when you filled it in check here. Organisers also recommend keeping your photo up to date on the registration, especially if your look has changed and you're not recognisable! Update the photo attached to your account and keeping your existing registration number.
If you last registered for Glastonbury tickets before 2010, you will need to resubmit a new application ahead of October's sale in order to buy tickets.
Once set up on the system, it's worth writing down your registration number ready for when ticket sales are opened.
Who's playing in 2020, will I know before I buy tickets?
Glastonbury never announce their line-up ahead of tickets going on sale. However this is half the fun! You won't know exactly who you'll see until you get there.  Rumours will be rife, of course. This year the Pyramid Stage saw headliners Stormzy, The Cure and The Killers.  As well as pop Princesses Carrie Underwood and Kylie.  Who do you think came out on top?
Worth mentioning too are the vast array of other activities and fields to explore.  The stories those fields could tell……
Fleetwood Mac are rumoured to be there for the 50th, as is sir Paul McCartney and the 1975.
Emily Eavis did confirm  that two headliner bookings were already in the bag for 2020. "Ideally, we'd have a mix of old and new acts headlining," she told NME. "A bit of both. But, a lot can happen between now and then, and it's about seeing who comes through and who would be right for us. It kind of depends, we've just got a little while, we're not in any rush, but it's quite exciting. It's always good having something in the long term plans as well."  NME
According to Glasto Fest Feed: Here's who might play next year's festival
How can I make sure I get a ticket?
First of all, be calm, patient and persistent.  You may have to juggle every laptop and device you own, so a cool demeaner will help you.  Some say cities have a harder time.  Maybe a trek to the town next to you will help.
Folk who get tickets every year have their own theory.  But according to the organisers, keeping a cool head is key!  A panicked soul will more likely make mistakes.
TOP TIP
Check your registration is correct.  Check you have enough money in the bank and that your credit card hasn't expired!
This is your time to get that coveted ticket in the bag.  You'll have just 6 minutes from getting the tickets in the basket to checkout. Make sure your registration and post codes are written down correctly and match the details you input on the day.  Don't mess it up at the final hurdle.
Is the ticket price worth it?
Abso-frickin'lutely!